Nope, social media isn't the only platform that helps a company's brand awareness. Possessing a customer or prospect's email address means one thing: they showed a level of interest in your business. Email marketing gives you the ability to increase that interest level, that brand awareness, by staying top of mind.
This doesn't mean to send four daily emails to every single customer. That's actually a great way to get customers to hate you… Instead, try some email marketing that promotes your activeness in the local community. Too many times companies try to sell, sell, sell their products via email marketing, and completely ignore the brand awareness factor. By doing so, they're also prohibiting the ultimate possibility of building customer trust and adding a sense of personality to their brand.
8. It's timely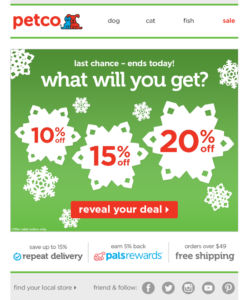 Speaking of sell, sell, sell…
Yes, one of the benefits of email marketing can be to sell your products, if you approach it in the correct fashion. It's important to use all the customer data and information you can. Sending customers a special offer on their birthday, or letting them know their favorite dish is half off is much more effective than simply sending them a menu.
This email marketing strategy also can incorporate seasonal offers, allowing you to promote a holiday special or an annual sale. Be sure to create a sense of urgency for any offer – customers are much more likely to purchase when a deal is ending soon.
9. Everyone (almost) uses email
A Hubspot survey states that 91% of consumers use email. That alone should be enough to convince you to explore the tool. Unless your industry accounts for the remaining 9% (hint: it doesn't), email presents an incredible opportunity to reach customers. Not only can you provide them with discounts, specials, new products, and more, they can share and forward those emails to anyone they'd like. A good email marketing strategy is to encourage customers to share offers as much as possible. Remember brand awareness?
Email is especially huge in the B2B world as it accounts for the most prominent form of communication for 73% of businesses.
One of our recommended email marketing partners is ActiveCampaign. They offer a free trial. Give it a try, it will open new doors for your business.